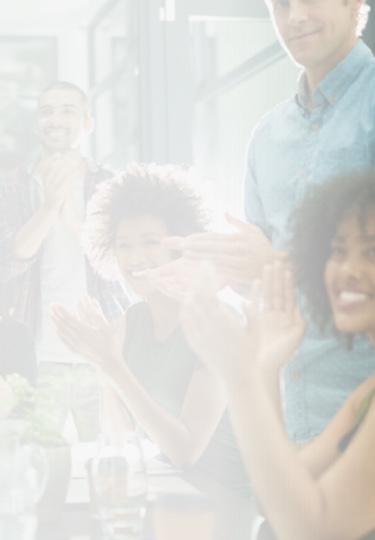 Diversity, Equity & Inclusion​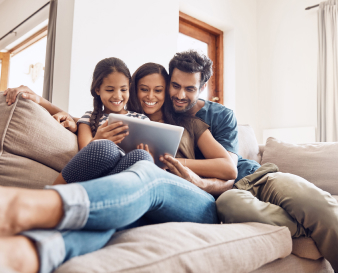 At NortonLifeLock, we believe that inclusion and diversity are vitally important to our success.
To us, diversity is more than just gender, race and ethnicity. It is also about diversity of thought, experiences, and identities. Having an inclusive culture and diverse teams is critical to our success in many ways. Diverse points of view help us improve our decision making and understand our customers better. They also allow us to respond to industry trends more effectively, stimulate problem-solving and drive innovation. 
We invest in diversity not just because it's the right thing to do but because we understand the impact it has on employee engagement, retention, productivity and profitability.
Our DEI Vision: To be an inclusive workplace that promotes and values diversity where everyone is respected and encouraged to thrive. 

Our DEI Mission: To increase our global representation of underrepresented teams at all levels (diversity), where everyone has an opportunity for development and advancement (equity) and where they feel valued and are able to bring their whole selves to work every day (inclusion).
Our DEI strategy is built upon four foundational pillars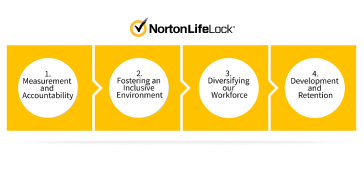 Our Diversity, Equity and Inclusion (DEI) strategy focuses on attracting, retaining and developing the best talent across all backgrounds and is built upon four foundational pillars:
1) Measurement and Accountability;  2) Fostering an Inclusive Environment; 3) Diversifying our Workforce; 4) Development and Retention.
We're committed to this strategy as it guides our efforts to fulfill the company's DEI mission.
We invest in an inclusive culture and diversifying our teams because it aligns with our values and because we fundamentally believe it makes us a higher performing company.
Here's some examples of how we bring these pillars to life
Measurement and accountability:
Holding Senior Leaders accountable for representation goals globally by providing scorecards to track progress and provide insight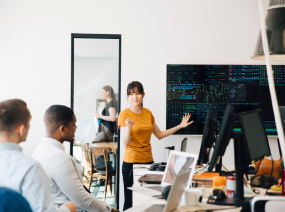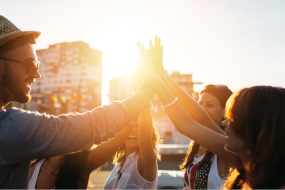 Fostering an inclusive environment:
Raising awareness globally on a wide range of diversity topics through different channels, including all-Company conversations and DEI-curated learning courses ​
Ensuring that doing the right thing is embedded into our DNA by implementing globally inclusive policies and guidelines
Diversifying our workforce:
Integrating diversity into all aspects of the employee lifecycle by focusing on how we attract, retain, and develop the best talent in the world 
Evolving our recruiting strategy by broadening the scope to attract diverse talent from universities, including Historically Black Colleges and Universities.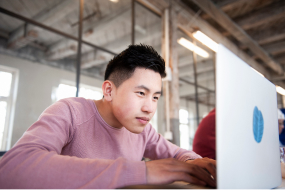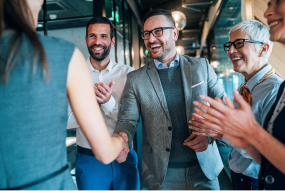 Development and retention:
Providing overall and DEI specific learning and educational opportunities to all employees as well as intentional development opportunities for underrepresented team members
Our Communities (Employee Resource Groups – ERGs)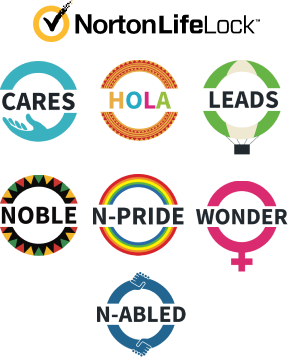 Engage with employees globally through various networking and educational events to help build cross-cultural awareness
Help ensure the Communities' voices are heard, valued, and included in the greater company conversation
Bring employees together in a safe place where conversations can flow freely, and everyone can feel comfortable sharing their experience
Build high-trust relationships with stakeholders across the Company that help us flourish
Partner with Talent Acquisition to advise on various strategies that would help diversify the applicant pool
Identify inclusion gaps in company processes so that all have equal access to opportunity
Partner with the business in building a work environment where our individual differences are valued and celebrated
Engage in volunteer efforts to support communities where we live and work
CARES​
CARES provides a support network and resources to employees who have had to take on a caregiver role for a loved one, whether an adult or a child – or who are/ have become a parent/ parental figure.
CARES grants opportunities to seek respite from the stress of these roles, advocates for policies and procedures that take caregivers'/ parents' special considerations into account, and supports some of the most vulnerable in our community and those who support them.
​HOLA​
HOLA is open to all interested in increasing access to opportunities for Hispanic and Latino employees, promoting cultural awareness, and serving as a resource for employees to support its members in achieving their full potential. HOLA strives to drive awareness of Hispanic/Latino contributions and positively impact how NortonLifeLock achieves its strategic priorities and business goals - fostering an environment where people support and encourage each other to succeed professionally, personally, and in their communities.
LEADS​
LEADS (Learn, Educate, Achieve, Develop for Success) is a global Community open to employees of all generations and experiences. LEADS is focused on creating a culture of growth and supporting the career development and advancement of all professionals through networking, skill-building, mentorship, and innovation.​
LEADS endeavors to leverage the creativity of all members while embracing the growth culture and building best practices. We aim to broaden and deepen the connections across team members within every stage of life.​
N-ABLED​
N-ABLED works to advise, educate, outreach to, and assist the business and individuals on how to be equitable and inclusive to those with a disability.​
N-ABLED helps with recruitment, retention, and advancement of people with all types of disabilities - visible or invisible - helping make NortonLifeLock a place where all its employees feel included and that they belong.​
NOBLE​
NOBLE is open to everyone interested in building and maintain an inclusive environment for black employees at NortonLifeLock. NOBLE promotes an inclusive work environment by leveraging the diverse experiences of black employees to provide innovative ideas that will increase awareness of the NortonLifeLock brand within the Black community; become thought leaders and serve as a cultural competence council providing insightful intelligence to NortonLifeLock's executive leadership team; enhancing and encouraging black employee career growth and development.
N-PRIDE​
N-PRIDE is open to all employees interested in building and maintaining a safe, inclusive, and equitable environment for lesbian, gay, bisexual, transgender, queer, questioning, intersex, androgynous, & asexual employees (including any other identities from this community not listed here). N-PRIDE advocates globally for LGBTQIA+ equity, inclusion, and allyship, so our employees, partners, and customers feel empowered to be their most authentic selves every day.
​WONDER​

WONDER is open to all employees (of all genders) interested in helping achieve gender equity. Gender equity is achieved when all people, regardless of their sex assigned at birth, have the same access to opportunity and advancement.  WONDER's mission is to support and encourage the advancement of female-identifying employees at NortonLifeLock. This work is done through building a positive work environment, supporting women to become more visible leaders, establishing mentorship networks, skill-building, creating and providing access to best practices, and advising on policy or procedural upgrades that would be more inclusive.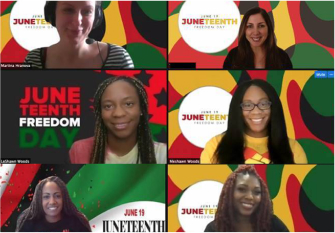 "NOBLE is about creating safe spaces for our Black employees and allies to feel seen, heard and supported. I'm proud that as a community we have been able to both share our culture with the company by hosting our Juneteenth and Many Shades Of NOBLE events and support each other in our Community based Meetings and Coffee/Happy Hours.  Hearing our members tell us how much they value the community lets us Champions know we're helping others feel included."
LeShawn Woods, Senior Sales Operation Manager and NOBLE Co-Champion
"The engagement in our first virtual PRIDE parade was absolutely incredible. The collective passion and dedication in our company was front and center, and you walked away knowing we are part of a community that is authentic, inclusive, and real."
Gayathri Rajendiran, Senior Community Program Manager and N-PRIDE Co-Champion​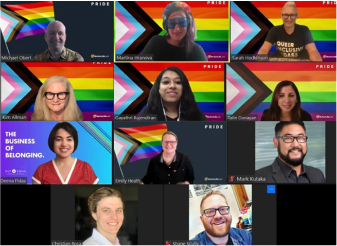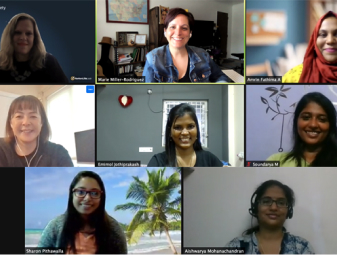 "I have worked for several companies where I felt the focus on diversity was lacking. When I joined NortonLifeLock it felt great to be part of a company that invests in diversity and inclusion and wants to keep an open and sometimes challenging dialogue going with the people it impacts every day. I feel our company is leading the way in creating a workplace that values and empowers everyone."
Yoshiko Blake, Support Product Analyst and WONDER Co-Champion​​

We made a three-year commitment to the Reboot Representation tech coalition, which is committed to doubling the number of Black, Latina, and Native American women graduating with computing degrees by 2025. ​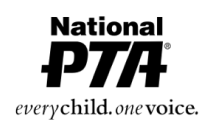 NortonLifeLock and National PTA work together to help families create an open, evolving conversation about digital technology safety. In 2016, we co-created the fun, free education program The Smart Talk. The program addresses privacy, screen time, social media etiquette, app usage, texting and calling, and helps families set tech ground rules for their household together. In early 2021, we announced a new $1 million commitment to expand The Smart Talk to serve more families over two years.

We partner with NASSCOM to run the Cyber Security Skills Development Initiative, a training program designed to create greater employability opportunities for under-resourced female engineering graduates by equipping women with the right job skills. In 2021, the initiative trained 121 women and 108 women secured the Certified Ethical Hacker certification. To date, 25 women from the program have been placed into jobs.